What causes food businesses to be anxious?
The general concern of Vietnamese food businesses at the moment is the increase in raw material and input costs, along with difficulties in market access, coupled with intense competitive pressure. This calls for effective solutions from regulatory agencies and relevant industry associations to reduce product costs and bring food prices back to a more reasonable level in order to improve purchasing power.
Contrasting Picture
This can also be clearly seen from the average domestic sugar price reaching 19,200 VND/kg in the first half of 2023, a 9.7% increase compared to the previous year due to the rising global sugar price and the official imposition of nearly 48% anti-tax avoidance tax on imported sugar from some Asian countries since the third quarter of 2022.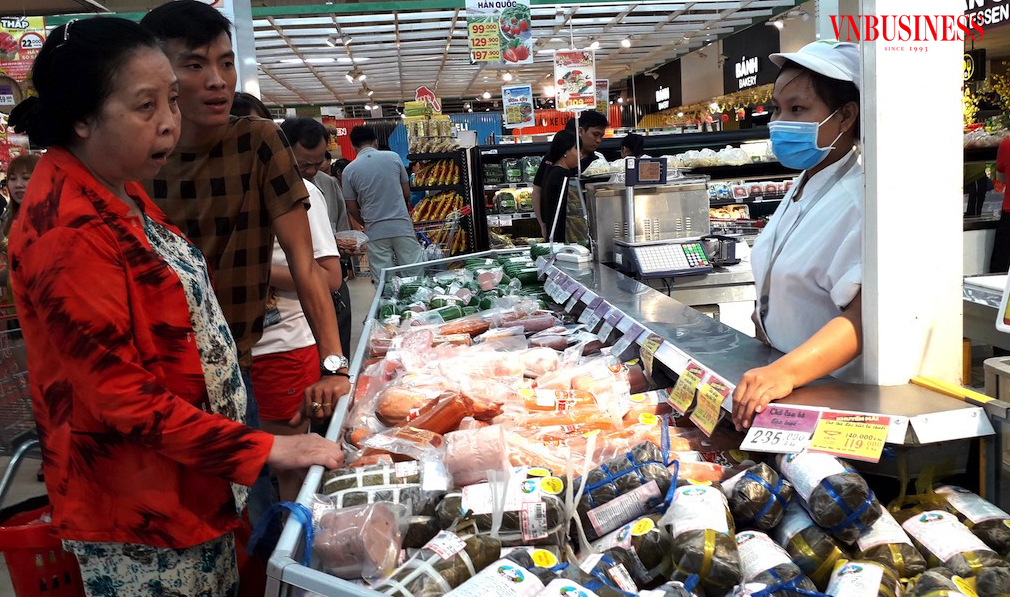 The increasing prices of grains and food products are making consumers, who are already tightening their belts, even more concerned.
In August 2023, the domestic sugar price reached its highest level in several years, ranging from 20,000 to 21,500 VND/kg, a 12% increase from the beginning of the year and a 14% increase from the same period last year.
As sugar prices rise, sugar cane businesses benefit. For example, Quang Ngai Sugar Joint Stock Company (QNS) recorded a 43.1% revenue growth in the first half of this year compared to the same period last year, thanks to an impressive 164% growth in the sugar segment compared to the same period last year (reaching 2.2 trillion VND), with total sugar consumption surging to 120,000 tons (a 126% increase).
With the upward trend in sugar prices, according to SSI Securities Company's estimate, QNS's gross revenue and net profit for 2023 are projected to reach 9,700 billion VND and 1,500 billion VND, respectively, representing growth of 17% and 18% compared to the same period last year.
However, in contrast to the bright spots in revenue and profits of sugar cane businesses, other companies in the food industry face significant pressure as high sugar prices increase input costs, leading to higher product costs, and subsequently, higher selling prices. In turn, declining purchasing power results in reduced revenue and profits.
For example, companies in the confectionery segment, like the Financial Report for the first half of 2023 published in August 2023 by Huu Nghi Food Joint Stock Company (HNF), showed a 69% decrease in profits in the first half of this year. This is in stark contrast to the previous year when the confectionery company reported record profits, increasing by 88% compared to the previous year.
Unlike the bright side of sugar cane businesses, due to market difficulties, HNF set a modest profit target of 52 billion VND this year, far behind the after-tax profit of 118 billion VND in 2022.
As explained by the company, this is due to increasingly fierce market competition in the confectionery sector. Furthermore, the modest profit goal is attributed to increased input costs, packaging costs, logistics costs, asset depreciation costs, and higher interest expenses.
Awaiting Effective Solutions
For companies in the confectionery sector, the increase in sugar prices is a significant challenge in terms of raw material costs. As shared by Nguyen Quoc Hoang, CEO of Bibica Corporation, the high domestic sugar price is a disadvantage for confectionery manufacturers. This disadvantage becomes evident when exporting, as the domestic sugar price is higher than that of Malaysia and Indonesia.
Looking at the current Mid-Autumn Festival cake market, it's apparent that the increase in input raw material costs by 10% – 20% (including the high sugar price, a 33% increase in flour price, an 11% increase in paper packaging…) leads to increased cake production costs. As a result, the selling price is raised by over 10% compared to the previous year.
Meanwhile, the purchasing power for Mid-Autumn Festival cakes is reportedly dwindling, with some even suggesting a 50% reduction compared to the same period last year, attributed to economic difficulties that lead consumers to prioritize more affordable options.
It's evident that the income of Vietnamese consumers is still negatively impacted by slow economic growth. Coupled with the rising prices of many staple food items, it hampers improvements in purchasing power.
Recent data released by the General Statistics Office underscores this point. In August 2023, the index of food and dining service group prices increased by 0.78% compared to the previous month. Food prices in August 2023 increased by 0.48% compared to the previous month.
Notably, the index of staple food prices in August 2023 increased by 3.28%, including the group of rice prices rising by 4.41%. Rice price increases affect the prices of other processed staple foods and grains, such as potato prices increasing by 4.37%, maize increasing by 1.81%, vermicelli, pho, and rice cakes increasing by 1.17%, wheat flour increasing by 0.66%, glass noodles increasing by 0.65%, instant noodles, pasta, pho, and instant porridge increasing by 0.31%, and corn flour increasing by 0.16%.
Such price increases pose a major challenge and significant concern for businesses in the food industry, as increased input costs lead to higher production costs. When selling prices rise sharply, consumers refrain from making purchases.
From these developments, the contrasting picture in the food industry today becomes clear. Some businesses producing or importing staple food items benefit from the high prices of raw materials, while others in the food processing sector have to "take the hit" due to increased input costs.
Returning to the updated report on the food industry by KIS Vietnam, when discussing the prospects for improving the profits of companies in the sector, it's noted that current economic support policies are expected to stimulate domestic consumption and short-term economic growth. These include the State Bank of Vietnam implementing four interest rate cuts, the government boosting public investment, reducing the Value Added Tax by 2% for the Food & Beverage sector, and increasing the basic wage.
As for the currently high sugar prices, the Vietnam Sugarcane Association recently advised its members not to further increase sugar prices in order to safeguard their own and consumers' interests, based on a balanced approach.
In conclusion, given the shared concerns of food businesses about input and output costs, effective solutions from regulatory agencies and relevant associations are essential to bring food prices back to a reasonable level. Only through this can purchasing power and the financial performance of food businesses be improved during these challenging times.